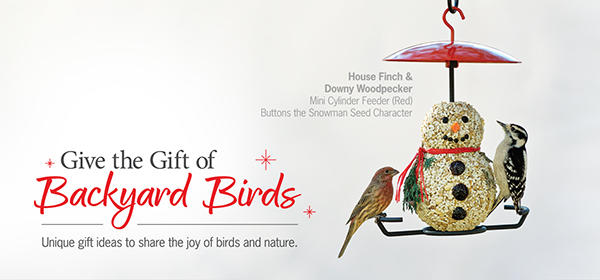 Give the Gift of Backyard Birds
It is such a special time of year; a time to gather together and share the blessings of life with those that are closest to us. We see it manifested every year as customers visit our Wild Birds Unlimited stores because they want to share their passion for nature and birds with their family and friends. They understand that the gift of nature continues to bring joy to the recipient's life long after the luster of other gifts has faded.
At this special time of the year, the delight of seeing so many active and energetic birds at your feeders, combined with the knowledge that you are having a positive impact on the quality of their lives, makes feeding birds a true joy.
And this joy is available to everyone. By providing just a few simple things, such as nutritious foods, clean water and ample shelter, birds can quickly become a valuable asset. Not a cash asset…but a spiritual asset that can reward anyone with many priceless hours of happiness and enjoyment.
Bird feeding is a joyful hobby…and it should be shared with those you love. Never discount the impact it can have in bringing people and nature together for the benefit of both.
We invite you to visit our store for the best seed, best feeders, best nature gifts and the best advice in town to help you introduce this wonderful hobby to your friends and family!
As we celebrate this special season, we invite you to bring nature home for the holidays and thank you for continuing to support our store, nature and wildlife. We wish you and your family a wonderful and healthy holiday season!
For more information, be sure to check out the WBU Nature Centered Podcast episode, "Bird Gifts and Gift Birds." Our entertaining and informative experts, John and Brian, will share how to have even more joy by attracting the widest variety of birds to your own backyard.
---